2015 Webelos Weeks - June 28—July 4 (Session 1) and July 26—August 1 (Session 8)
About | Traditional Programs | Webelos Week | Project M.O.O.S.E
---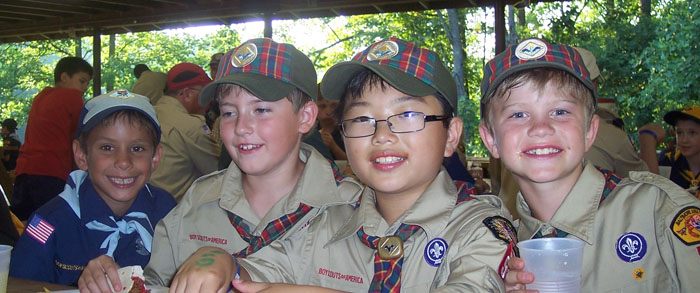 What is Webelos Week?
Webelos week is the ultimate culmination of a Cub Scouts journey to Boy Scouts. While attending this week long session, either with his parents or his Den, a Webelo will experience what it is like to attend Boy Scout summer camp while still enjoying his final summer camp experience as a Cub Scout. The week long session is still high energy and packed full of our theme's traveling fun, but it is a little slower pace for the parents and more educational for the Scouts.
What will Cub Scout Do during Webelos Week?
Webelos week is designed to give Webelos a head start or sneak peak into the world of Boy Scouts, a youth lead program. They will have many of the same responsibilities of a Boy Scout while at camp as well as man Boy Scout like activities that you will not find during ANY of our other sessions.
Here are some of the activities Webelos will experience:
• A Cub Scout appropriate "High" Adventure trek
• Project C.O.P.E. (Challenging Outdoor Personal Experience)
• A longer Project MOOSE outpost
• A Tour of Camp Saffran, one of our 2 Boy Scout camps at Broad Creek
• A Closing campfire run by the boys
- MORE Advancement Opportunity
June 28—July 4 (Session 1) and July 26—August 1 (Session 8)
Questions? Email campoestdirector@baltimorebsa.org
Session 1 and Session 8 Fees:
Youth: $365
$340 – 50% paid and registered by April 1st, 2015
$365 – Registered after April 2, 2015
Adult: $125 (Flat Rate)