Broad Creek Memorial Scout Reservation has limited operations due to

COVID-19

. However, Broad Creek has opened its gates as a campground to our individual Scouting families/households

as well as our units

.
The Spring Cub Scout Family Weekend is closed.

We will be hosting a Fall Cub Family Weekend. Information will be forthcoming.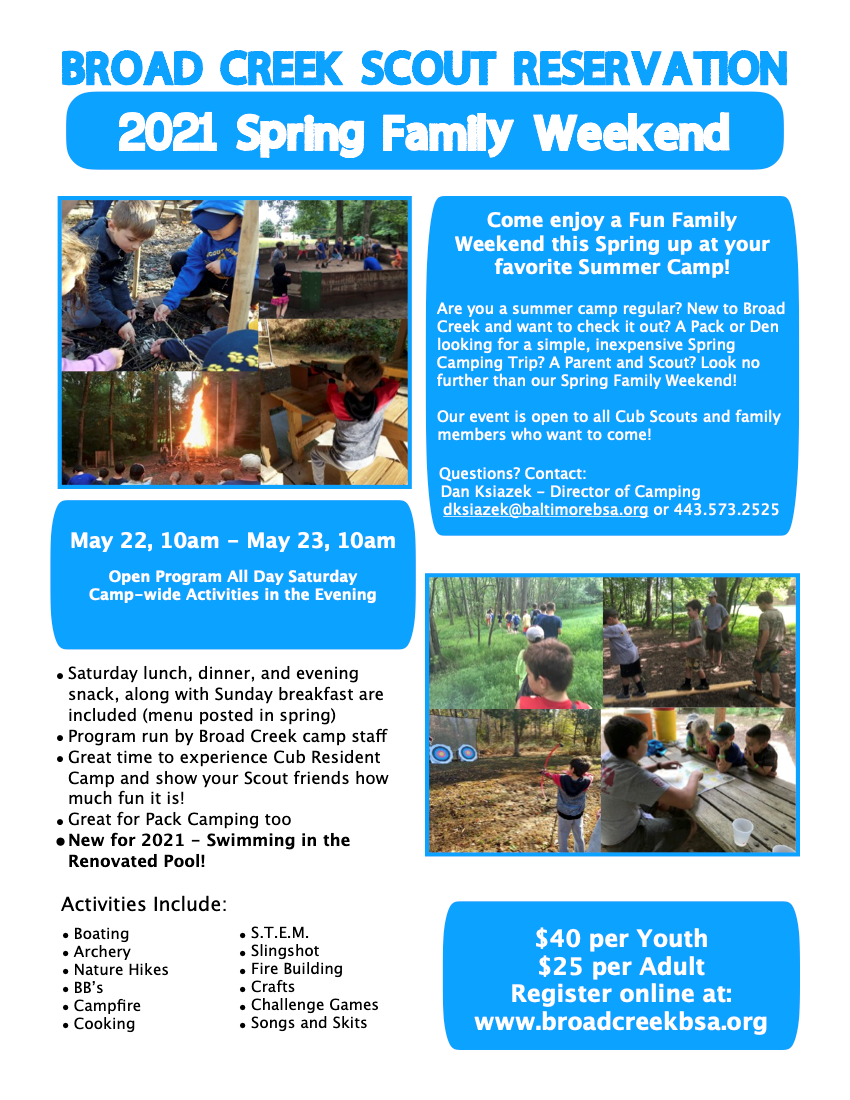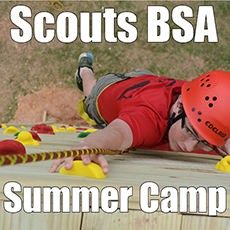 Scouts BSA Summer Camp
Broad Creek offers 5 weeks of Scout Resident Summer Camp each summer with programs for both first year campers and experienced Scouts.
Learn more
---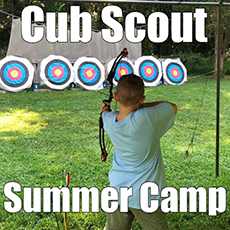 Cub Scout Summer Camp
Broad Creek's Cub Resident summer camp is one of a small number of Cub Scout Camps across the country where Cub Scouts can stay overnight!
Learn more
---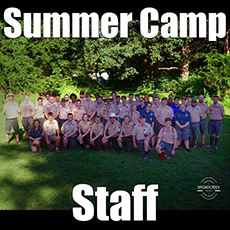 Camp Staff
Broad Creek is always looking for great summer camp staff members. A summer of fun, fellowship, hard work, and uncounted awards awaits!
---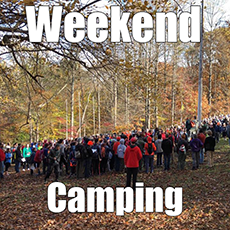 Weekend Camping
Broad Creek offers many cabin and rustic campsite camping opportunities for Scout Troops and Cub Packs from September to May.
Learn more
---
2021 Calendar

May 7 - 9: NYLT/Brownsea

May 14 - 16: Wood Badge 1

May 21 - 23: Spring Family Weekend

June 1: Campership Application Closes

June - Aug: Summer Camp - Camp Closed for Weekend Camping

June 11 - 13: Wood Badge

2021 Calendar

Aug 13 - 15: Wood Badge

Aug 20 - 22: Ordeal 3

Aug 27 - 29: Ordeal 4

Sept 3 - 5: Labor Day - Camp Closed

Sept 10 -12: Four Rivers Camporee/Ordeal 5

Sept 17 - 19: OA Fall Fellowship/ Wood Badge

Sept 24 - 26: NYLT

2021 Calendar

Oct 1 - 3: Program Weekend

Oct 8 - 10: Harford Camporee/ NYLT

Oct 15 - 17: NP Webelos-o-ree/ Brownsea/Dulaney Webelos-o-ree

Oct 22 - 24: Venturing Rendezvous/ Wood Badge

Oct 29 - 31: Trade Skills Day/Eagles Nest

Nov 26 - 28: Thanksgiving - Camp Closed

Dec 24 - 26 - Christmas - Camp Closed

Dec 31 - 2: New Years/Jingle Bell Beaver Day - Camp Closed
---